format_quote
SSenStone continues to research and develop technologies that provide safer and more convenient identification and authentication between humans and devices or devices and devices in a rapidly changing ICT environment. We are driven by one vision: to utilize our authentication technology, OTAC to become the 'oxygen' in the IT environment over the world.
format_quote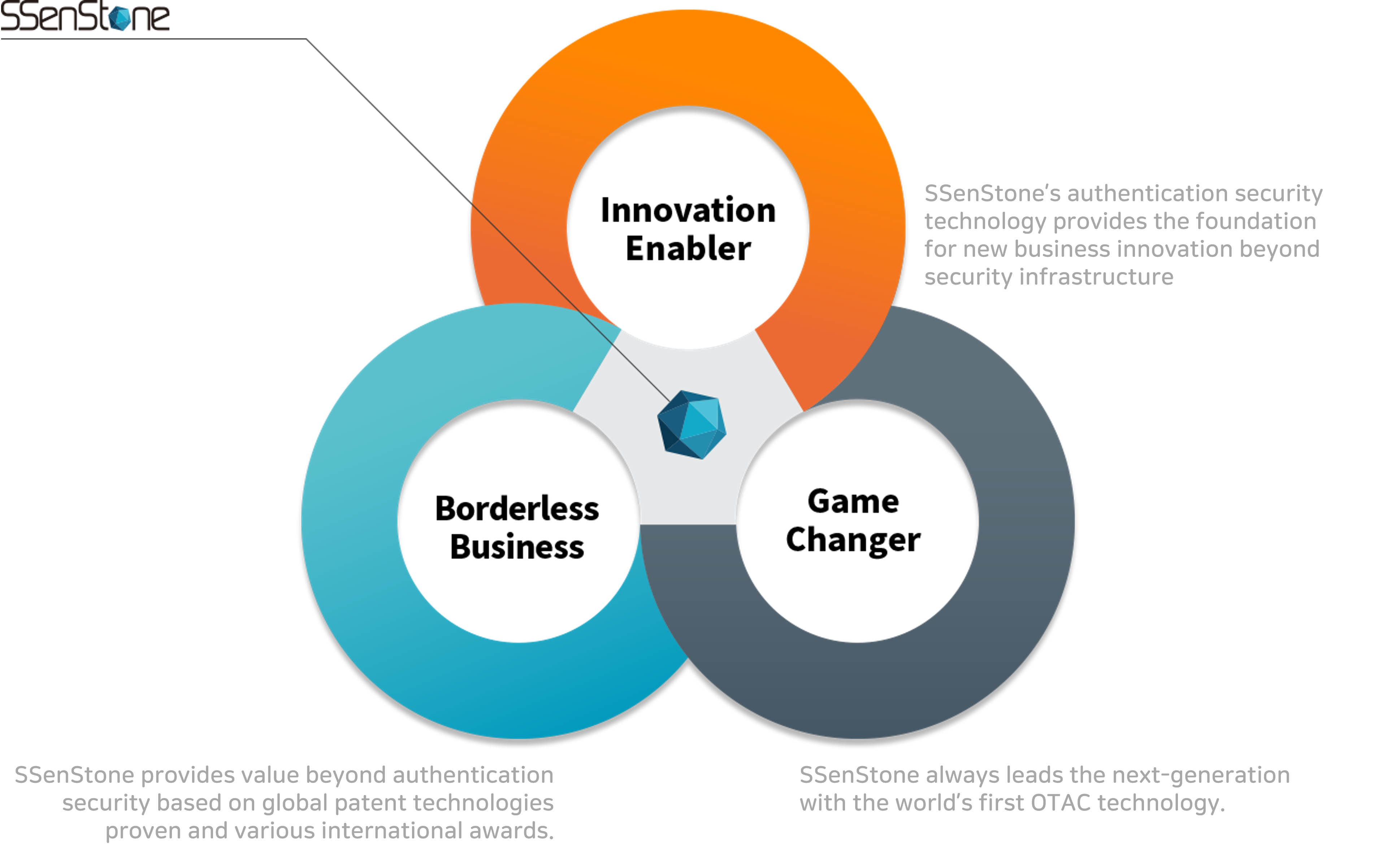 300+

Global Patents Application

120+

Global Patents Registration

330+

Global Intellectual Property Right

Baby Unicorn 1st place

2020 Korean Ministry of SMEs and Startups K-unicorn Project

Cybersecurity Category 1st place

EUROPAS Award 2020

Authentication Solution of the Year

Cyber Security Breakthrough Award 2020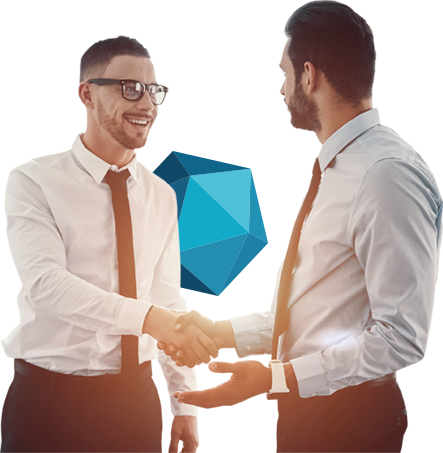 Global business headquarter of SSenStone

swIDch, SSenStone's global business headquarters, is recognized for its technology and growth through its prestigious international awards and diverse accelerator programs. After getting its start through the UK Department of International Trade (DIT)'s GEP program and the UK Committee of Digital, Culture, Media, and Sport (DCMS)'s LORCA program, it has been rapidly expanding its business activities to Europe, the Americas, and Asia. swIDch has been jointly developing various business models with industry leaders in vertical markets with OTAC technology.
For further information, please visit the official website of swIDch https://swidch.com
swIDch Profile Download
History
2023
May

International CC Certification

FEB

Conducted proof of concept (PoC) with LS ELECTRIC to block external threats on programmable logic controller (PLC)
2022
DEC

NET(New Excellent Technology) Certification (KATS&KOITA)

OCT

Selected as a finalist at 2022 Global FinTech Hackcelerator

Winner of CyberSecurity Breakthrough Award 'Transaction Security Solution of the Year'

swIDch won the 'Global Fast Track' Semi-Finalists

SEP

Selected for KB Startters Singapore Programme (KB Innovation HUB)

AUG

Selected for '2022 Fintech Overseas Expansion Support Program' of Fintech Center Korea

Runner Up(Fintech&Metaverse Pillar) at the 2022 Mobile 360 Asia Pacific
Digital Nations Startup Pitching Award

JUN

Selected for 'Korea Startup Center(KSC) & F10 Singapore Program'

Highly commended by SC Awards Europe in the Best IOT/IIOT Security Solution category

Selected for BMW Startup Garage Korea Open Innovation Pitching Day

swIDch, selected for South Summit Finalists Top 100 (Connectivity & Data)

Selected for 2022 XTC Finalist Enabling Tech Category Runners-Up

Won the 'Gold Globee Winner(Startup of the Year, Security Software)' at the 14th Annual 2022 Golden Bridge Business and Innovation Awards

MAY

swIDch, selected for Wayra-Open2Metaverse accelerating program, Telefonica

Won the 'Gold Globee Winner(Startup of the Year, Security Software)'
at the 17th Annual 2022 IT World Awards

MAR

Selected for 'Orange Fab Asia 2022' accelerating program

Won the 'Gold Globee Winner(Startup of the Year, Security Services)'
at the 18th Annual 2022 Cyber Security Global Excellence Awards
2021
DEC

Won the 'Excellence Award' at Born2Global Alumni 2021 Event

swIDch Auth SDK obtained level 1 GS(Good Software) certification

NOV

Selected for Cyber Runway accelerating program in the UK

swIDch, selected for Innate UK Smart Grant

OCT

Supplied 'switch OTP' to Toss Bank, an internet-only Bank

SEP

Winner of "Overall Fraud Prevention Solution Provider of the Year"
in CyberSecurity BreakThrough Award

Winner of Korea Mobile Awards

AUG

Selected for F10 Switzerland Acceleration Batch III
Won the 'Excellence award' at Startup Challenge of Personal Information
Protection Commission

JUN

Global launch of swIDch Auth SDK

Finalist of Cybertech 100 List

MAR
2020
DEC

Selected as top 3 finalist in PITCH competition at Web Summit 2020

Won the 'Excellence award' at Born2Global Alumni 2020 Event

NOV

Selected as the national representative of innovative company
by Ministry of SMEs and Startups

PoC with Continental Korea via Born2Global

Selected for 'Cyber@Station F by Thales' Finalist

OCT

Provided Technology certified by Indonesian Tax Service

Winner of CyberSecurity BreakThrough Award 'Certification Solution of the Year'

SEP

Selected for Plug and Play's Fintech Development Programme (Silicon Valley 12 Batch)

JUL

Cybertech category winner of EUROPAS 2020 Awards

JUN

Selected for the 'K-Baby Unicorn' by the Korean Ministry of SMEs and Startups(MSS)

Finalist of Cybertech 100 List

Selected for XTC (Extreme Tech Challenge) Finalist

MAR

Selected for 'KB Starters' by KB Financial Group

FEB

Selected for 'Shinhan Futures Lab' 6-1 batch by Shinhan Financial Group

Selected for Cyber 101 Accelerator Programme (part of UK Gov. funded programme for cybersecurity startups)

JAN

Selected for Accenture Innovation Fintech Lab
2019
DEC

Awarded Born2Global's Best Go-Global startup

OCT

Supplied OTAC technology to Indonesia DOK

Awarded grand prize at fintech IP (Intellectual Property) competition

SEP

Partnership agreement with RES Data Security in Israel

Partnership agreement with PT. JNL Indonesia

JUN

Signed MOU with Zwipe in Norway

MAY

Selected for UK FCA (Financial Conduct Authority) Innovation Hub

Selected for LORCA (UK cybersecurity innovators Program)

Selected for VISA Everywhere Initiative (VEI) Korea

Selected for MasterCard Start Path Global

APR

Received a Prime Minister citation in Korea

MAR

Selected for NatWest/RBS accelerating program

FEB

Launched swIDch card beta service

JAN

Moved into Level39 office in London

Business agreement with NatWest (RBS group) in UK

Selected for GEP (Global Entrepreneur Programme) in UK

Partnership with Somo Global
2018
DEC

Established UK corporation 'swIDch'

Certified FIDO2 int'l standard

NOV

Secured Series A+ investment (Idea Bridge Partners)

AUG

Applied for additional 10 OTAC (One-Time Authentication Code) patents in 6 countries

Pre-A investment (STIC investments, Geon Investment)

JUN

Selected for Money 20/20 Europe Startup Academy

MAY

Implemented StonePASS blockchain authentication platform

FEB

Selected as a Top 5 global security startup at Money 20/20 Asia
2017
NOV

Awarded Excellence Prize at K-Global Startup competition

Awarded the First Prize at K-Global Security Startup competition

AUG

Developed Dynamic One-Time Authentication Code

Applied for 3 OTAC (One-Time Authentication Code) patents in 5 countries

JUN

Selected for the K-Champ unicorn incubating program of CCEI

APR

Selected for the global 'GEP 5th Vietnam' program of CCEI

MAR

Registered Japan, Singapore and US patents

FEB

Obtained level 1 GS (Good Software) certification

Awarded Excellence Prize at SW competitiveness competition of MSIT

Security consulting based on the Japanese iSiD financial standard

JAN

Selected as the Korean representative of FIBC 2017 in Japan
2016
DEC

Selected for K-Global 300 of ICT promising companies

Awarded e-Government competition

NOV

Attracted investments from KEB Hana Bank, Hanhwa Group and Credit Guarantee Fund

SEP

Certified FIDO 1.0 int'l standard (iOS, Android, Server)

AUG

Selected as Hanwha Dream Plus63

MAY

3rd alumni of KEB Hana Bank's 1Q Lab

APR

Complete security consulting of Financial Security Institute

3rd alumni of CCEI K-Champ Lab

MAR

Lotte L-Camp 1st alumni

Spark Labs 7th alumni

FEB

Attracted RCPS (Korea Technology Finance Corporation) investment

Venture Business Certification (Technology Finance Corporation)
2015
DEC

Established Corporate R&D Center (KOITA)

Developed 2-Way Dynamic Key Matching Algorithm

Released StonePASS (Next Generation User Authentication Solution)

NOV
Contact Us
Improve your authentication environment and
make your service reliable with SSenStone!
Inquire now.
5F, 329, Cheonho-daero Dongdaemun-gu, Seoul, Republic of Korea
Contact below if you have an urgent inquiry.
Korea Office (SSenStone)
5F, 329, Cheonho-daero Dongdaemun-gu, Seoul, Republic of Korea (02622)
Tel : 02-569-9668 | Fax : 02-6455-9668
im@ssenstone.com
UK Office (swIDch)
swIDch Ltd Office 176, 1st Floor, 3 More London Riverside, London SE1 2RE
Tel : 020-3283-4081
info@swidch.com